MBM - New Look 6351 and a big fat fail
Today's post brings you a modest success and a big fat fail. Let's get the fail out of the way first, shall we?
As soon as my husband saw me wearing these pants he asked me "Did you make those?" when I replied "yes" he informed me "They look homemade". (He is an amateur winemaker and "homemade"is shorthand between us for "go back to the drawing board on that one"). And in pointing this out, he was pointing out something that was already patently obvious to me.
These pants are my second version of
Style Arc Tessa
. The first version was a big success, and have been worn multiple times. Soon after making the first version, I was on the hunt for linen to make another pair. I ordered some linen from the Tessuti website, and almost as soon as it arrived the fabric was in the wash, dried and cut. It wasn't until I was midway through construction that it dawned on me that while the colour and fabric content was good, the textured weave was totally wrong. Stiff and unyielding - no drape AT ALL, and Tessa needs drape. At this point, I abandoned the project and it skulked around the sewing room as a UFO for a good 12 months. After a sewing room clean up I found it in me to complete the pants, in the forlorn hope that my initial impressions were mistaken. They were not.See how they bunch unattractively around the crotch? Not good.
So, these pants have found their way to the "donate"pile already. The Tessa pattern is one I will return to, but with fabric with at least a little drape. This fabric would have been far better made into a jean jacket sort of thing. Missed opportunity there.
The top is a modest success, however. This is the first New Look pattern I've ever sewn, bought for the jacket, which I thought was a lot like another fail of mine
Grainline Morris
, but with princess seams.Anyway, I had fabric leftover from my recent
Tessuti Frankie
make, and I was curious to assess the New Look fit.
To decide on the size, I got out the pattern pieces for Sewaholic Renfrew and compared, which kind of begs the question, why not make a Renfrew, seeing as this pattern is a V-neck Renfrew sans hem and sleeve bands. Good question, one I don't have an answer to, really.
There isn't much else to say about putting this together. Once I decided on the size, it was an ordinary t-shirt sew. End of story. However, I would like to draw your attention to the point of the "V" - I pretty much nailed it!
This is New Look 6351, if you are interested.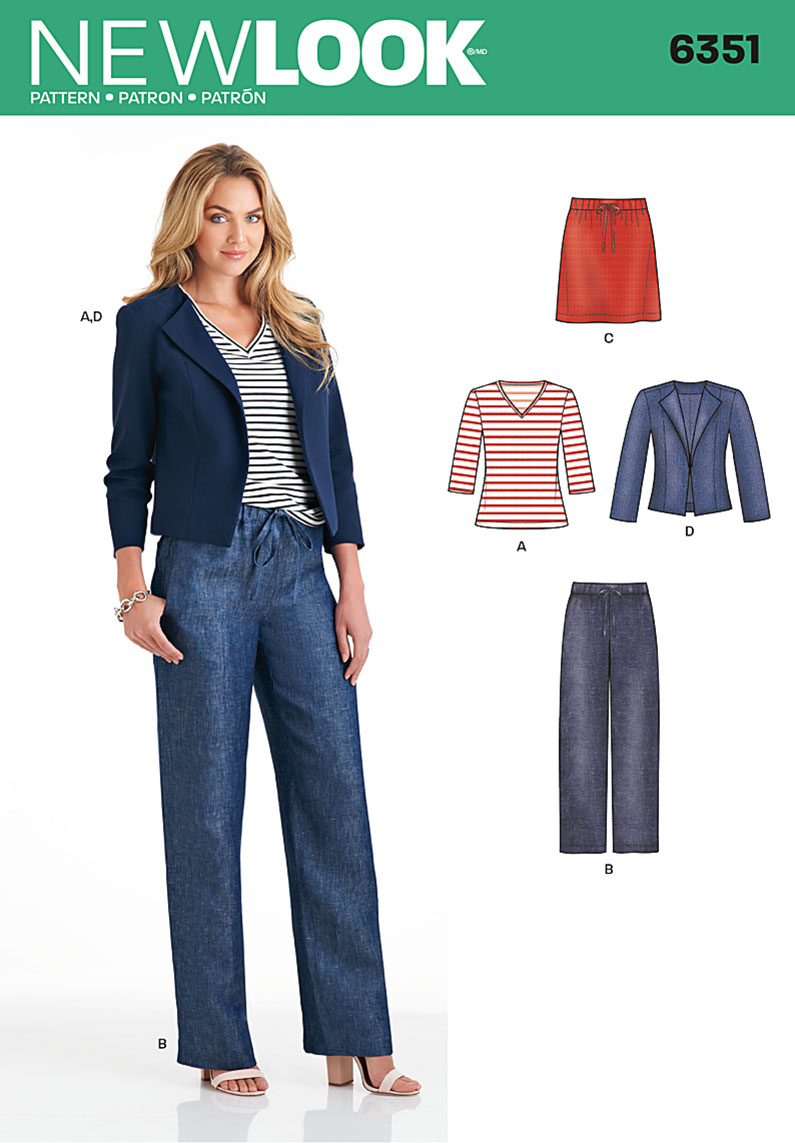 So this is about the eleventy squillionth stripey t-shirt I've made. Do I detect a style rut here? Quite possibly!